Buying stocks and other financial assets has never been easier or more convenient. Various online brokers offer trading platforms that provide an affordable service. Here, we are going to look at two better-known services: E-Trade vs Fidelity.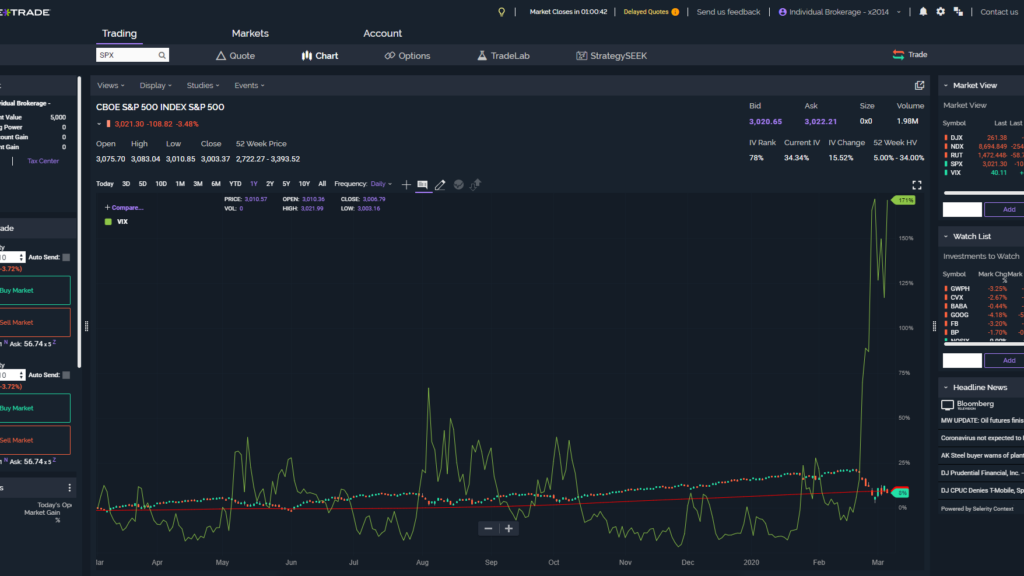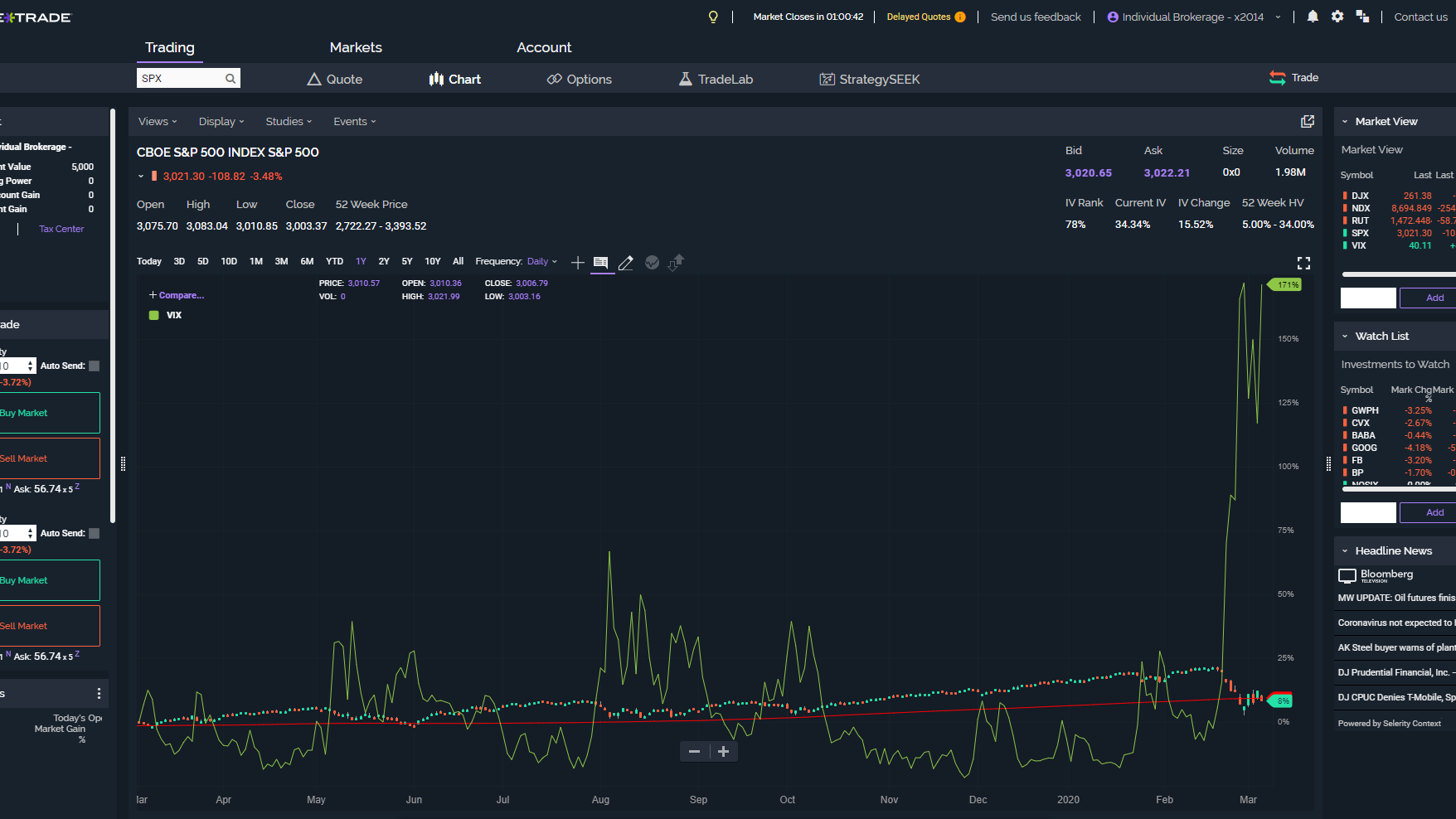 Platforms such as E-Trade and Fidelity have, to a great extent, replaced personal brokers. Gone are the days when to make a trade you had to call your broker to buy or sell for you. This was often tedious ]and occasionally caused problems.  
What Do E-Trade And Fidelity Offer?
Both platforms are full-service online brokerages that allow you to trade a variety of financial assets such as bonds, stocks, exchange-traded funds, options, and mutual funds. Fidelity doesn't deal with futures, but the amateur investor is probably not too interested in futures—they're quite risky. Both platforms offer a wealth of analytical tools and data and both allow you to track markets through customized charts. One other important point they have in common is that their websites and apps are user-friendly and it's easy to set up your account.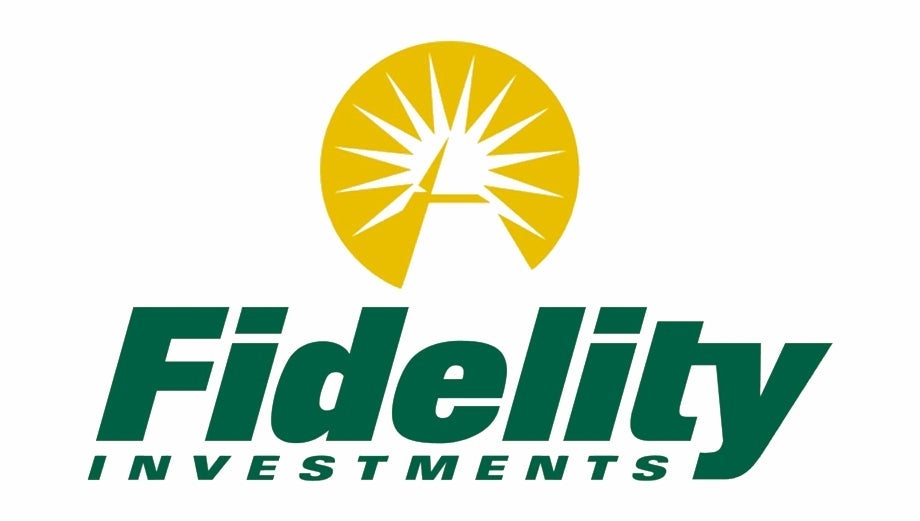 E-Trade and Fidelity (and their competitors) offer round-the-clock access to financial asset markets. The companies web designers have spent a lot of time and effort on developing interfaces that are easy to use and navigate and continue to make improvements. 
With just a little practice, an investor will find the platforms comfortable to work with and will have easy access to charts, reports, and articles that will help her make decisions.
Who can use E-Trade And Fidelity?
Stock trading is heavily regulated. For this reason, you must be a resident of the United States to use these platforms. In fact, most American platforms restrict their use to US residents. An exception is ZacksTrade from Chicago. However, reviewers and users have given ZacksTrade mixed ratings. This site charges $0.01 per share and requires an account minimum of $2,500. An investor who isn't a US resident should look for a local platform. 
Residents In The United Kingdom
Unfortunately, you can't trade on E-Trade or Fidelity but there are many similar sites available to you that offer an online trading service. Let's go over a few of them:
Interactive Brokers
Saxo Markets
Hargreaves Lansdown 
DEGIRO
Interactive Investor
Many more are available that are very similar in structure, so you can find a trading platform that works for you.
Residents In The European Union
Then there are also platforms available to European Union residents. Among them, you'll find many of the same services that operate in the UK:
Interactive Brokers
DEGIRO
XTB
Firstrade
All of the above offer intuitive platforms that any investor, new or not, will find easy to use. The American platforms are world leaders that other sites have emulated. 
Residents of other countries will find lists of trading platforms available in their region on the internet. All of these platforms work in a similar way to E-Trade and Fidelity. However, the products they offer and the cost of their services will be different from their American counterparts. 
History of E-Trade
William A. Porter was in his early fifties when he met the younger Bernard A. Newcomb in Palo Alto, California in 1980. Porter was a visionary who had bought an Apple II computer that, he hoped, could be used to buy and sell stocks. Unfortunately, his modem couldn't access the information he needed.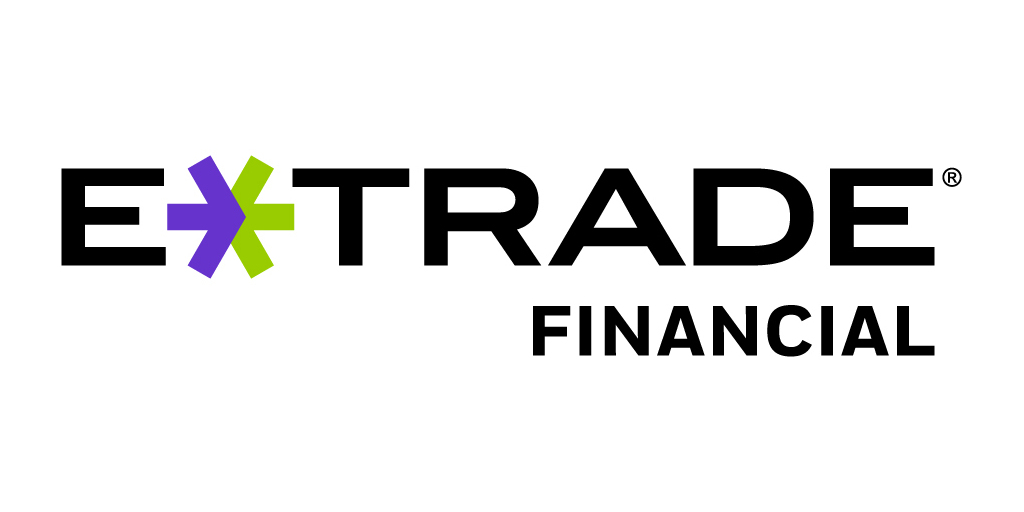 Meeting Newcomb made all the difference. Porter convinced him to go into partnership and create a company. Newcomb would develop and design a trading program that would run on the Apple II. In 1982, the pair launched Trade Plus with $15,000 of capital.
Then, in 1991, Newcomb and Porter started E-Trade Securities Inc. funded by the capital from Trade Plus. E-Trade initially offered its services through America Online and Compuserve. In 1994, E-Trade reported annual revenues of almost $11 million but, within two years, it was doing much better. Figures for 1996 showed that the company had 73,000 accounts making 8,000 trades every day and the quarterly revenue was $15 million.
In 1996, the company made an Initial Public Offering and went public. Since then, E-Trade has made a series of acquisitions and concentrated on consolidating its position in the market.
History of Fidelity
We can see E-Trade as an early Californian tech venture. Fidelity has a completely different background. E-Trade is Silicon Valley and Fidelity is Ivy League. Edward C. Johnson II started Fidelity Management and Research in Boston, Massachusetts in 1946. Now known as Fidelity Investments Inc., the company is a multinational financial services corporation with $4.9 billion of assets under its management.
Fidelity is one of the largest asset managers in the world. The Johnson family still owns a 49% share of the company. Abigail Pierrepont Johnson, the granddaughter of Edward, is currently the president and chief executive officer of Fidelity Investments.
Fidelity launched its computerized trading operation in 1984. Despite their different backgrounds, both companies have ended up offering a very similar service.
Which Is Better, E-Trade or Fidelity?
Analysts generally seem to prefer Fidelity over E-Trade, but changes happen very quickly in this field and E-Trade may shortly rectify any shortcomings. In reality, the two platforms are very similar and both are highly rated. Which one you choose to use will depend on personal preference.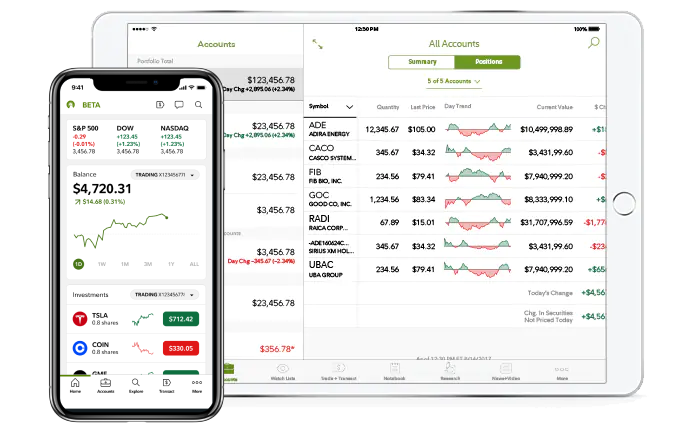 These online trading platforms attract not just professionals but also appeal to many people who have little experience in investing. But, whether a new investor or more experienced, research is the key to finding good investment opportunities. According to recent research from stockbrokers.com on the E-Trade platform:
"When it comes to usability and modern design, E-Trade's screening and quote experiences do not quite stack up to the hand-crafted experiences of Fidelity and Charles Schwab. Also, while E-Trade provides in-house market commentary and analysis (articles), it trails its closest competitors in quality, depth, and quantity."
In fact, their results give Fidelity a slightly higher rating than E-Trade and emphasize that Fidelity is a better bet for beginners. Fidelity, it claims, comes second to only TD Ameritrade in the overall quality of its service, whilst the website rates E-Trade in the fifth position, behind Charles Schwab, in third, and then Interactive Brokers. 
All of the platforms in this sector are constantly striving to improve their interface and the depth of information that they offer.
In general, Fidelity is strong on its research reports, its beginner-friendly tools, and its mobile app but that its platform is restricted. E-trade has an expansive set of resources and tools, it's easy to use, and it's an industry leader. Unfortunately, its trade fees are a disadvantage.
Mobile Apps
Both platforms have apps that you can download to your mobile phone. The apps are very similar but the Fidelity app currently has a feature that E-Trade does not. This is a virtual assistant—a chatbot to help the investor. This feature gives Fidelity the advantage over E-Trade in this category.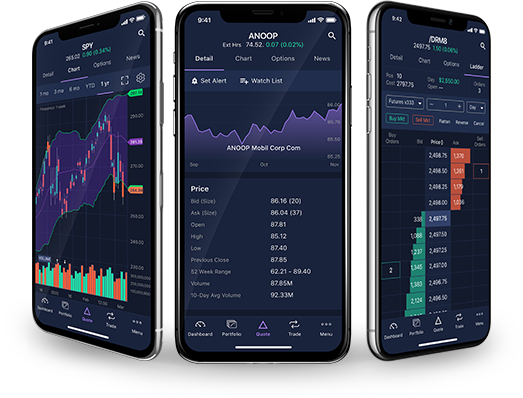 Customer Service
Again Fidelity has the edge. The telephone service that both companies offer is very similar but Fidelity has 300 walk-in branches that investors can visit if they prefer to chat with someone face to face. E-Trade has just thirty. This is only an advantage for US citizens.
Available Features
On E-Trade you can trade in Futures, on Fidelity you can't. Neither platform offers the possibility of trading in cryptocurrencies or Foreign Exchange. Fidelity has an important feature that outweighs E-Trade's advantage with Futures trading availability. Fidelity offers fractional shares – that is an investor can purchase just a part of one share. E-Trade does not offer this option, on E.Trade you have to buy the whole share. Being able to buy a fractional share is important to many small investors. Fidelity offers fractional shares on its app.
Fidelity Fractional Shares App
As a new investor, you might decide that you want to buy shares in Google. You have $2,000 in your Fidelity trading account and decide to buy Google shares with some of it. You quickly discover that buying Google shares means investing in their parent company, Alphabet. Currently, the price per share is $2,450.
If you were using E-Trade, this would be the end of the story and you would look for cheaper alternatives. However, with the Fidelity app, you simply decide how much you want to invest, tap Transact and Trade, then enter the dollar amount that you want to invest. You'll enter this into the Quantity box. The app tells you what percentage of a share you now own and your returns will reflect this. 
Fees
As the number of competitors in the online trading sector has increased, fees have come under downward pressure. Fidelity and E-Trade are in direct competition, their fee structures, as you would expect, are very similar. Both charge $0.65 per options contract, although E.Trade discounts this fee if you buy in volume. Neither platform charges an annual fee. Neither platform charges for inactivity, and you can leave the platform for a while and make no transactions without being penalized.
There is one fee that E-Trade charges that Fidelity does not. This is a transfer fee if you want to transfer your E-Trade account to another online broker. E.Trade will charge you $75 if you move the entire account and $25 for transferring part of it. 
How Do I Open An Account?
Opening an account is easy and quick. We'll use E-Trade as an example, but the process is very similar to the one at Fidelity. You simply go to the site and choose the type of account you wish to open, in our case it will be a trading account.
Next, you'll have to provide proof of identity with a Social Security Number and an ID like a passport or driver's license. The process is fully digital so you can do your identity check online. Now, you simply transfer money from your regular account to your new brokerage account. The platform will check and process your information. You are ready to begin trading.
How Does Online Trading Work?
From the point of view of the user, the process seems to consist of nothing more than clicking on the correct tab. The interfaces for each are easy to use and intuitive. But, when you make a buy or sell order, a lot is going on behind the scenes. 
The system registers your order and shunts it to a database. The database now searches for a match to your order – finding a buyer if you are selling and a seller if you want to buy. When it makes a match, it sends a confirmation to both parties. The database next reports the order and the price to the regulatory authorities and records the transaction in case the authorities want to check it in the future. The next step is to send contracts to the buying broker and the selling broker. Settlement of the transaction can take up to three days and the shares are yours.
The trading platforms are so easy to use that you might feel worried about the safety of your investments. This is not the case as the database carefully monitors each and every transaction and keeps records that regulators can check. 
Is Fidelity Good For Beginners?
Most reviewers currently give Fidelity a slight advantage over E-Trade for beginners. However, there doesn`t seem to be much to choose between them. Both are easy to navigate and are supported by tutorials. Anyone with even a slight knowledge of computers should find both platforms intuitive. Fidelity and E.Trade offer customer support for those who get lost. 
YouTube videos are available to teach you how to use the Fidelity platform and the E-Trade platform as well.
Is Fidelity Bigger than E.Trade?
As online platforms, the two offer a similar choice of investment options. Fidelity has more mutual funds available but E-Trade also has a large number. You should have no problem finding a mutual fund that works for you on either platform. 
In terms of company size, the two platforms can't really be compared. Fidelity is part of  Fidelity Investments and E.Trade is a subsidiary of Morgan Stanley. There is no danger of either of them going bankrupt in the near future.
Power E-Trade And Active Trader Pro
E-Trade has two web platforms that each have an app. New investors will find that the standard E-Trade website is perfect for all the basics. An investor who's dealing in large trades at a high volume will probably want to use Power E-Trade. Power E-Trade is more detailed.
Fidelity also offers a two-tier system. Again, their website works well for the ordinary investor. People who are very active investors might want to download Fidelity's Active Trader Pro, this is an interface the investor can customize.
Mutual Funds
Both E-Trade and Fidelity offer investors the opportunity to put their money into mutual funds. Many investors are wary of mutual funds, but they represent a good option for the long-term investor. Of course, all investments carry some risk and mutual funds are no exception. But bearing in mind that they are best thought of as long-term options, they offer a few advantages:
Mutual funds are more tax-efficient than other investments
They generally offer higher returns
Mutual Funds are professionally managed
They are closely regulated
These platforms both offer an ideal way to invest in mutual funds. On both, you can easily investigate their performance, get an expert opinion, and find out exactly what each fund is investing in. You might not want to invest all of your money in mutual funds, but you should consider making them a part of your investment portfolio.  
Disadvantages Of Online Trading
Platforms like E-Trade and Fidelity have made trading in financial assets simple and available to a larger public. However, there are some disadvantages to online trading we want to mention:
Technical problems are not limited to the world of online trading. Relying on the internet is generally fine, but service depends on connection and power supply. A power outage can ruin your day's trading.
Online trading is easy, as is transferring more money into your brokerage account. Since decisions can be made quickly, this can result in poor decisions or overinvestments.
Online trading can be addictive. Like gambling, it can be difficult to know when to stop. 
Online trading means you're only in contact with a computer screen. You usually won't have a personal relationship with a broker who can advise you. An investor should think carefully before deciding to buy a financial asset.
Sound Practice
No matter which online platform you decide to use, you should follow these basic rules of thumb. First, it is safest to invest in well-established companies with a solid reputation. Some stocks, for example, show a meteoric rise in value because of increased expectations. Such stocks can experience an equally meteoric fall. Remember the Dutch tulip mania in the early 1600s when the futures market for tulip bulbs showed an incredible boom. In 1637, the bubble burst, and many people met financial ruin.  
Second, your portfolio should be broad-based with investments in manufacturing and industry, commodities and resources, consumer products, finance, and utilities. 
Is There A Better Platform?
Both E-Trade and Fidelity are consistently well-rated and both are perfectly good platforms with considerable experience and solid reputations. One platform, in particular, tends to get even better reviews and that is TD Ameritrade. TD Ameritrade offers two trading platforms – 'TD Ameritrade' and the delightfully named 'thinkorswim'. TD Ameritrade does not offer anything that E-Trade and Fidelity do not, but reviewers point out that its customer service is superb. there is always someone available that you can speak to if you have a problem.
TD Ameritrade is a subsidiary of Charles Schwab (which also has its own highly rated platform). The two companies will fully integrate in 2023. Whether this will have an impact on other online trading platform providers remains to be seen.
Conclusion
We have seen that Fidelity tends to get slightly higher ratings than E-Trade, yet E.Trade still has many loyal users. Really, the difference between them is marginal, and both offer a good service to investors of all types. Nevertheless, there is one advantage that Fidelity has that might swing a small investor's decision: Fidelity offers fractional shares. 
Fractional shares may be particularly interesting to smaller investors. They allow an investor to broaden their portfolio and buy into companies that would otherwise be out of reach. There are, of course, cheaper shares on offer. But the higher-priced shares often represent a good return. Amazon.com, Inc. is currently trading on NASDAQ at $3,449.08 per share, a price that many small investors can't pay, but which offers the possibility of good returns.
Having said that, online trading platforms adapt to the demands of the market very quickly, and it's very possible that other platforms might soon start offering fractional shares.
Using online trading platforms gives an investor greater control over your portfolio. They're cheaper and faster than the traditional system and offer real-time tracking.
American platforms are very much the leaders in this sector, But the innovations that they make are quickly copied by others. 
No matter who wins when you compare E-Trade vs Fidelity, these companies are here to stay and will continue to improve. They are tools that anyone can use and are fun to work with, but, there is one caveat: don't get carried away. Monitor your investments, resist impulsive buying, and always do research. There's plenty of information readily available on these platforms, but remember that they're neutral brokers. They're not in the business of selling you something you do not want—you are in control.