Investors turn to gold when confidence in other investment vehicles falters. Why? Because despite the fluctuations in the price of gold, it has proven to be a stable, reliable investment. 
Acre Gold is a membership-based program that offers investors a new way to buy gold. Being a relatively new and unknown program, some people call it a scam. But there is absolutely no reason for us to believe that this is the case. Once you look more into it, you can see that it is legitimate. 
Whether it's a good program or not is another question altogether. Here to answer that question, is our Acre Gold review.
How Acre Gold Works
The idea behind Acre Gold is a simple one. As an investor, you pay a membership fee of $12; then, you subscribe for $50 per month. This total accumulates until you have enough in your account to purchase a 2.5-gram gold bar. Another option allows you to pay $100 and receive a 5g bar when you have sufficient funds. Apparently, the company will soon offer a 10-gram option.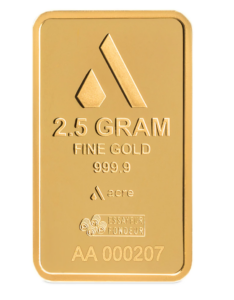 Acre then sends a gold bar to your home address (but you'll have to pay for shipping and handling). The bars come with a certificate that guarantees that they are 99.9% pure. They are designed in California and minted in Switzerland. 
Even though the price of gold constantly fluctuates, you will typically have accumulated enough in your account to receive your first bar after three months.  
So far, so good, right? Right! As far as customers are concerned, the company has only made good on its promise to deliver genuine gold bars and hasn't had any scandalous problems.
Who Is Acre Gold Good For?
Acre Gold is a good option for cautious investors with disposable income and people who like to see and feel their investment. It's also an excellent way to purchase an investment as a gift as you can easily pass on your gold bars to family members.
Seeing as gold is an incredibly liquid asset, Acre Gold may be ideal for someone looking to generate "backup plans" for emergency financial situations.
>>>Take a closer look at Acre Gold here<<<
Acre Gold Advantages
Firstly, let's summarize the advantages.
Simplicity
Once you have your account set up, Acre Gold looks after the rest. Registering for an account is straightforward.
Quality
No complaints about this. The gold is certified 24k. 
Stable Product
Gold is a stable, long-term investment and a haven in times of economic uncertainty.
Reliability
You can trust the company to deliver your gold bars regularly.
Subscription
You may cancel your Acre Gold subscription at any time, but there is a fee associated with it (which we'll discuss later).
Acre Gold Disadvantages
Unfortunately, there do seem to be some disadvantages.
Cancellation Fee
The company charges a fee of $20 to close an account. Even so, some clients have complained that closing their accounts has been difficult.
Shipping Delays
Acre Gold stockpiles gold that it buys on the market. So in times of great demand, Acre has had difficulty purchasing enough to meet its obligations. This has led to delivery delays. I am sure that most people would accept this, but Acre needs to do more to keep clients informed.
Lack of Customer Support
The fundamental problem would appear to be with customer support. I suspect that what has happened is that Acre has come up with a business model that they believe is self-sustaining. The process is simple: you pay, accumulate, and get your gold. So, why have a customer support team?
Inexperience
Acre Gold has only been trading for around three years and has yet to build a reputation. And because the company has not been operating for long, it is difficult to get a clear picture of it.
Mystery Owner
The company does not say who founded it. This does not necessarily mean anything wrong, but most companies make a point of highlighting the experience behind them.
>>>Take a closer look at the platform here<<<
User Experience
Overall, Acre Gold's user experience is a positive one. Still, there are some nuances you should be aware of.
Website
Acre Gold's website is uncluttered and user-friendly but could do with a FAQs section. It seems to me that the web designer has assumed that anything anyone would want to know is all self-evident. However, the target customer is someone who would need a FAQs section as they have little experience in investing. They will undoubtedly have many questions that might seem obvious to the site owner, but that deserve an answer.
Ease-of-Purchase
Buying gold through Acre is straightforward. Keep your payments up to date, and the gold will keep arriving. This is attractive to people who want to keep things as uncomplicated as possible. 
Customer Reviews
The company publishes testimonials from clients on its website, and clients have written comments on Acre Gold's Facebook and Instagram accounts. Not surprisingly, these paint a rosy picture of the company. However, independent websites have received quite a few complaints from dissatisfied clients. Most of these are complaints about account transparency and difficulties in getting clear answers to questions.
How Much Does It Cost?
The Acre Gold client will pay:
The cost of a subscription plan. 
A one-time membership fee of $12.
A processing fee of $3.35.
Shipping and fulfilment.
A cancellation fee of $20.
Of course, fees can change over time. You should check for the latest information.
A Note To UK Investors
There is no information on the Acre Gold website about international clients. I imagine that if it is available to UK investors, the shipping charges would be high.
Conclusion
The fees that Acre Gold charges seem reasonable, and the product is precisely what they say it is. Nevertheless, the company needs to put more effort into communication. My biggest critique of the company is that it's young and hasn't quite got everything figured out just yet. 
Still, Acre Gold is offering something that people want. As the company gains more experience, it should be able to identify its failings and correct them.
Overall, it is a simple, affordable subscription scheme that offers all the benefits of investment without studying for hours on end to understand candlestick patterns and trends.